The next 3 weeks are children's art weeks 2020. This week is Art in Nature here are some challenges for you to take part in.
---
Oldham Council is inviting schools to take part in a creative writing competition to capture the views and opinions of students during the Covid-19 Pandemic.
You can find the details here
---
Oldham Libraries is delighted to announce the launch of the Online Silly Squad Summer Reading Challenge and our Silly Stories Writing Competition. (Please see below for details). We look forward to working with you and your pupils to make it a fun-filled summer to remember, full of words, wonder and lots of silliness!
Silly Squad Launch!

Online Summer Reading Challenge 2020
Facebook, Friday 5 June
It's here! The 2020 Summer Reading Challenge celebrates all things silly and we've got loads of crazy events for you to enjoy, as you play through this online game of reads and rewards. Launch day with Oldham Libraries will see a Silly Squad Facebook takeover, with silly storytelling, crazy crafts – including Supertato Potato Craft – and the launch of our Silly Stories Writing Competition. Summer Reading Challenge is free to play and recommended for ages 4-11 years. Join us to find out more…
https://summerreadingchallenge.org.uk/
Silly Stories Writing Competition

Friday 5 June – Tuesday 30 June
Help us celebrate this year's Silly Squad Summer Reading Challenge by entering our very own silly stories writing competition. In 500-words or fewer, write a  story about a silly adventure to the library.  The sillier the better! The story must include these three things: a book; an animal of your choice; and a banana. We can't wait to see what amazing adventures you come up with. Submit your entries by emailing them to katie.maden@oldham.gov.uk  by Tuesday 30 June. When submitting your entries please provide your name, age and school. The winners will have their stories read live on Oldham Libraries Facebook page!
---
­ National Sports Week 22nd June to the 26th June.
All young people deserve to enjoy the life-changing benefits that come from play and sport. That's why this year we're asking our pupils' families to take part in National School Sport Week at Home while we join in at school.
Not long to go until @YouthSportTrust National School Sport Week at Home! Whether you're at home or at school, join in with this fantastic week-long celebration of sport and wellbeing. Sign up at http://bit.ly/YSTNSSW #
If you are unable to sign up we will post different activities for you to try out over the week. Complete the daily sports challenges below. Send pictures into school so we can share your activities with our school community.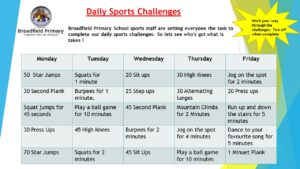 Keep checking the school website for more activities.
Keep fit and healthy,
P.E. Team
---
A video message from Oldham Learning Disability Team. Remember don't worry!
Oldham Sports Development have also launched a programme of live sporting events and sessions for children which will live stream on Facebook and then be shared on YouTube afterwards. The sessions will start streaming at 10am on Monday 18th May.
For the Facebook sessions click HERE
For the YouTube videos click HERE
Home learning information:
If your child completes any home learning which you would like to share with us then please email us at info@broadfield.oldham.sch.uk