To log in to the music service follow the following instructions:
STUDENT LOGIN GUIDE TO YUMU online music teaching platform.
1) go to website https://www.gmmusiconline.co.uk. This will take you to this page.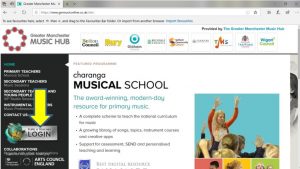 2) Click on the "LOGIN" button, where I have put the yellow arrow.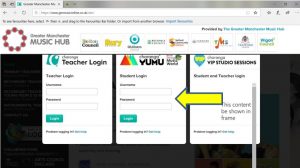 3) Enter your username and password in the student login box and click login.
4) The work set for you will appear on the next page. Each unit of work your teacher has set will be called an "Assignment". An assignment folder will contain a collection of resources, which may be pieces of music, backing tracks, videos and pdf files of instructions on how to use the resources. On a regular basis your teacher will update assignments and set new assignments, so make sure you log on regularly and keep practicing.
5) Click on the assignment and it will open with the page on the left below. Once you have been set several sets of assignments this page will list them all.
6) Click on an assignment (to begin you will only have one). The page on the right will appear with a list of the tasks and resources in the assignment. As you click on each item in the list it will open up on screen for you to see or play. For music pdfs, you have the option to print them if you prefer to play from paper.
Use your specific USERNAME and PASSWORD
For Year 5 Flutes
USERNAME – p879879          PASSWORD – coda
For Year 5 and 6 Violins
USERNAME – p881464          PASSWORD – robin